You know what they say about bodies in motion? Well, Karen Walrond's self-portrait challenge has inspired me to share one of my photographs (the image at the bottom of this post) somewhere other than on my own blog.
On Friday, I mentioned
Chookooloonks
. Well,
Shutter Sisters
is another blog I follow. It's a community of creative women who share their photographs and thoughts. This site is a great place to go when you're looking for inspiration or a sense of kinship with like-minded women. These are the kinds of women I would like to invite to my house for dinner.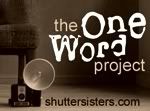 Anyway, each month Shutter Sisters hosts its own challenge, an invitation for women like me to contribute their own images. This month's challenge is centered around the theme "Focus," which works beautifully with my own recent experimentation...Annie Leibovitz writes in her book At Work about sometimes getting out of the way and letting the camera find its own shot, a "shoot-from-the-hip philosophy" if you will. And that's exactly what I did for the following image. I simply placed my camera on the ground, set my lens to autofocus, and let my camera do the rest. Pretty neat, huh?
Thanks, Annie.